Treats! Treats!
Yay! Mommy went shopping today and brought home a bagful of new things!

And best of all.... I can eat every one! Mmm.



Shopping may be a girl thing, but Oxbow is mine!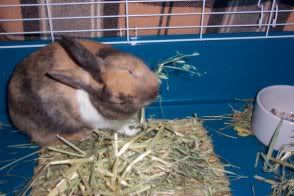 Finding the right piece to eat is like a needle in an Oxbow haystack.


Remi's Mom
: Since we're living in NYC for the summer, I'm taking full advantage of the numerous pet stores in the area. After taking the advice of
Simone's
Mama to go for Oxbow, I googled if any store carried the brand. Success! I figured it was better than paying the $10+ in shipping and handling to have it sent all the way from out west. (And a thanks to
Simone's
Mama for the pellet advice!)

Remi's new treats:
-Oxbow Oat Hay
-Oxbow Bunny Basics 15/23
-Oxbow Papaya Tablets

Ohh yes, I joined the Papaya bandwagon! I'm excited to give these to him considering I don't usually buy much fruit. I'm saving them for the moment since I already gave him some new things. He'd better be a good boy!

Does refrigerating the bottle help perserve them? I would think they're the same as vitamins, all freeze-dried sort-of.