After much time.
Remi's mom: Thank you for the comments on my last post! Well, I have yet to purchase a new mate for Remi. After some consideration I'm not quite sure I have the space in the bedroom of my shared apartment. My main problem is I just upgraded Remi's cage and if I buy another bun they will most definitely need a larger one to share. That would leave me with two older cages, and probably out around $100, along with the price of a large one. Sigh. I still am highly considering another bun nonetheless.

On to the much needed pictures!

A new grassmat and wooden playball!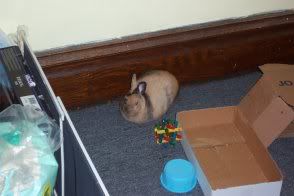 I love when he sits in a curled up ball!
Also, I recently bought a toy ring with two wooden carrots on it from Petco. Although he likes throwing it around, I noticed he'd already nibbled off the ear of the plastic rabbit head which made me take it away in worry. Is it alright for him to nibble on the plastic?