Happy Birthday to Me!
Mommy says today is the day she got me from her mommy and I'm 1 years old! She says "her little boy is growing up so fast". I like growing. You have to eat to grow!

Today is also "Hal-o-ween", it's suppose to be a scary day with dressing up. I wish I was scary! Because today is my birthday, I'm a rabbit for Hal-o-ween, not a bunny. Don't I look all grown up?

Mommy gave me an apple tasting stick toy and some cantaloupe! Mmm, can we have more birthdays?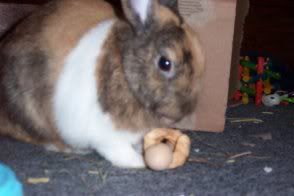 Mmm, apple stick!


Tug o' war with Mommy!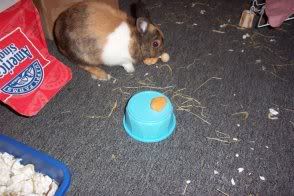 Munch munch.