Somebody's getting coal for Christmas!
One of Mommy's new year resolutions is to update this more. Your comments work!

Let's see.. for Christmas I didn't ask for anything, but I got dried papaya pieces which I love as much as the tablets!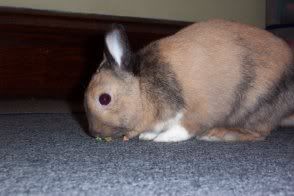 After running around the racetrack floor I slept if off.
Then mommy caught me as I was relaxing, I think it's my legs.
Let's see.. 2005 was about: being cute, Mommy expanding my racetrack to the whole room except her bed, trying new dried fruits, me turning 1 years old, getting along with Mr.PickMeUp.
2006 we can look forward to: more of all of the above!